Costa Lourens
Farm holidays, Torre Pellice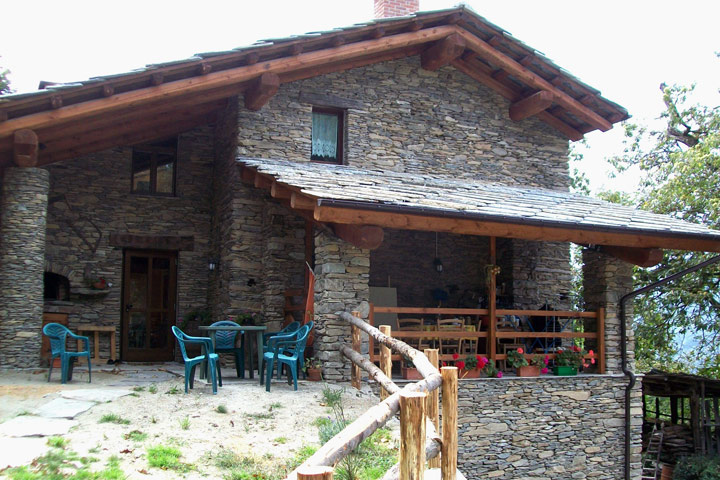 The agritourism is located in an old farmhouse of 1832 in Costa Lorenzo of Torre Pellice, in the heart of the Waldensian valleys, at an altitude of 750 m, surrounded by chestnut woods. It is precisely the production of chestnuts that characterizes the farm, certified organic since 1999; beside it, the production of berries (blueberries, raspberries, blackberries, and currant), mountain potatoes and vegetables in general. The presence of bees in summertime ensures a good pollination to fruit trees and allows an excellent production of chestnut honey and linden trees (Tilia).
Since 2004, next to agricultural activity, the farm can also lodge in a rural independent apartment with the kitchen, bathroom and two bedrooms with six beds.By the summer of 2014, completed the renovation of the building in the respect of the pre-existing characteristics such as wooden beams at sight, lose coverage, local stonewalls, the farm started the restaurant activity.
Almost exclusively local products are used for foods preparation: meat from animals raised in the Valley, local cheeses, including the famous "saras del fèn", cured meats and mustardela who marry perfectly with fruits and vegetables produced in the farm and wild herbs of the area. Pasta is homemade using also the chestnut flour of our fruits and processed in the Valley.
The agritourism frequently hosts vegetarian and vegan and has always given its willingness to careful cuisine who has Celiac disease problems.

The farm can be reached by car (approx. 1.5 km from the Bertenga Bridge) using via Costa Lorenzo, partly paved, partly dirt bottom; on site there is a parking lot reserved for guests.It is also possible to climb in Costa Lourens with a walking of just over 30 ' in the same way, with an accessible trail.
Toilets for the disabled available; free wifi internet connection is available.
The reservation is recommended.
Costa Lourens is located in the heart of two naturalistic trails which enhance the surrounded territory: the Ghiandaia, a trail that crosses Torre Pellice and Luserna San Giovanni, and the "chestnut's trail" that links the right bank of the Pellice, Bibiana and Villar Pellice. Upstream the agritourism, at an altitude between 800 and 950 m, it was recovered a "balcony trail" that go through old plots with dry-stone walls that between the 700 and 800 have hosted many charcoal pits.
Contacts, details
Web: www.costalourens.it
Phone. +39 0121 097167 - +39 338 8422982
Places

6 posti letto

Internet connection avaiable

present

Accessible for impaired people

present

Accessible by car

present

Private parking

present
---