Cascina Bonetto
Farms, Lusernetta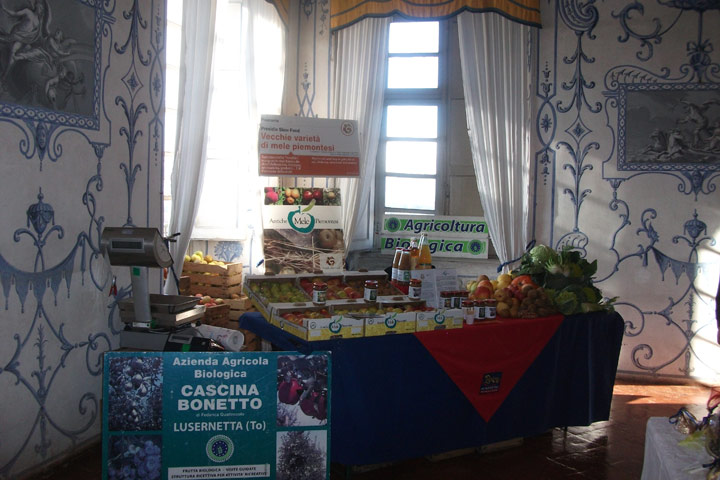 The Cascina Bonetto is located in Pellice Valley, on the right bank of the creek, in the small town of Lusernetta, close to the historic frescoed  Chapel frescoed of S. Bernardino and next to the roundabout that goes from "Strada delle Cave" to the centre of Lusernetta.
The farm is about 10 hectares, 8 of them conducted in meadow-pasture, which provides hay in summer and pasture in winter for the flock of a young sheep and goat breeder of the high valley, with the aim of an environmental synergy. The remaining hectares are planted with fruit trees (apples, pears, blueberries, and kiwi) on organic farming since 2001 according to the EEC regulation. Not only the most common variety are directly sold, but also the 'Ancient Piedmontese Apples', Slow Food Presidium, which are used for a series of processing ranging from "All apple" juice to the compote, vinegar and jellies juice.
An appendix of the farm, on the opposite side of the cascina compared to 156 provincial road towards the creek Luserna, houses a room of about 60 sqm, which is rented for parties, lunches or dinners, conferences, complete with kitchenette and heating, without beds.
Locality
Lusernetta, TO, Italia Latitude: 44.802651 | Longitude: 7.247001
How to reach us
From Luserna San Giovanni towards Lusernetta, continue on the provincial road 156 to Bibiana for about 200 m after the entrance to the main square.
From Turin in loc. Bricherasio turn on bridge of Bibiana, at the first roundabout after the bridge turn right and take the 'Cave road' to the roundabout of Lusernetta centre, after 100 m the first uphill road on the left.
Seasonal opening period
The farm has no timetable, because most of the time we are in the field or farmer's market. Please, call us before, to visit the orchards or buy products.
Servizi offerti
Direct sales of fruit and processed
Farm tours
Room rental for parties or recreational
Contacts, details
Phone. +39 333 1879521
Accessible by car

present

Private parking

present

Pets allowed
---